Identity theft, in which a thief uses someone else's name and/or Social Security number to pile up charges, is one of the fastest-growing crimes. More than 1,000 people a day are being defrauded nationwide.
The following suggestions can reduce the chances of being victimized: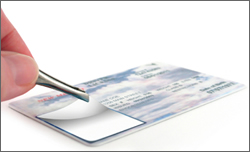 Close all unused credit-card accounts.
Never leave credit card or ATM receipts behind, or throw them into public trash cans. Tear them up and throw them away at home.
Beware of pre-approved credit offers. If you decide you don't want it, tear it up before throwing it away because it contains personal information.
Consider an unlisted telephone number. Identity thieves often get their information from phone books.
Check your credit report once a year by contacting a credit bureau: Equifax, 800-685-1111; Experian (formerly TRW), 800-682-7654; and TransUnion, 800-888-4213.
For more information on Identity Theft and Fraud, please visit or contact the South Hackensack Police Department at (201) 440-0042.
Related Links